What or who is Pledge a Pound?
Pledge a Pound evolved from a simple idea on a forum and was founded in March 2010, since then we've raised thousands of pounds for the rabbit and guinea pig rescues we support. We now have our own Website, Forum and Facebook pages. Pledge a Pound is managed by a small talented team of 4 people who help organise and plan events in order to raise funds. Pledge a Pound currently supports 21 rabbit and guinea pig rescues. Our aim is to give a donation of £75 to at least 3 rescues each month,  we also plan to have 2 special fundraisers  - one at the end of June and the other at Christmas where each of the rescues will receive a donation. A lot of our rabbit rescues  are self-funded; they have turned their homes into safe havens and opened their hearts to these beautiful misunderstood creatures, some of which have come from a very bad start in life, they have nursed them back to health so they have a second chance. Our idea is; that people donate a minimum of 
£1 a month (gifted if possible please) via paypal to 
pledgeapound@hotmail.co.uk
 or via bank transfer or you can set up a standing order or pay by cheque – please fill in our contact form for bank details. Each month the money received is divided into £75 shares, which covers the cost of a neuter and sometimes a vaccination for a rabbit (depending on where the rescue is situated), if we receive £230 then 3 rescues are drawn from the list and the remaining £5 is carried over to the next draw. You are probably thinking how can £1 make a difference? Well we know it can - last year we raised over £9000. You can donate monthly or whenever you are able to, it doesn't have to be each month, we will never pester you for a donation, we all know that sometimes an unexpected bill arrives and money is tighter than usual.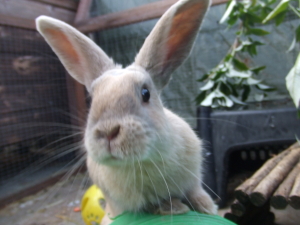 All of the money raised goes to the rabbit rescues - nothing is deducted for admin costs.
Why not follow us on
Facebook
?