We currently have 4 team members, it can get very confusing as 2 of us are called Susan, hence the reason we've included our forum names in brackets 

Susan (Hunnybunny2007) Founder member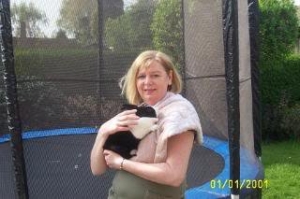 I adopted my first rabbit in August 2007, little did I know what an impact this would have on my life!
We found Honey after searching on the Internet and stumbling across a list of rabbit rescues, until this point I wasn't aware such places existed, and to my amazement there was a rescue less than a mile away from me.
Honey was to be the first in a line of rabbits to come and share our home, I currently have 14, and our set up has evolved from one hutch with a small run attached, to 3 sheds each with walk in runs, I also have 4 house bunnies  that have health problems.
After volunteering at a rabbit rescue I was filled with admiration and respect for all the work they do and also a little disappointed to see how little recognition they received in return.  I decided to try and do something to help and started organising small fundraisers for 2 local rescues by knitting bunnies and selling them, but I quickly realised this was not enough.
I have been a member of several rabbit groups and forums and people were always discussing fresh ideas on raising funds, then someone suggested making regular donations to rescues each month, this was just a rough idea, but I was intrigued and thought it could work, so in March 2010 Pledge a Pound was founded.
----------------------------------------------------------------------------------------------
Hi my name is Sue (Foofy). I have had pet rabbits since I was a child along with a variety of other animals including ponies, dogs, cats, and guinea pigs. I think you could say that I am animal mad and of course my favourite is rabbits 

I have a tabby & white cat called Poppy. A tortoise called Harry who I have had for 29 years! and I have no idea how hold he is probably older than me
I have 4 rabbits that were all adopted from Southampton Rabbit Rescue. They are Peter an agouti Dutch who is now 10, he lives with Ruby a REW lionhead who is only 1-2 years old. Jinx a grey & white Dutch who lives with Smokey a grey lion lop who is very fluffy and very long hair! I try and support and fundraise for Southampton Rabbit Rescue as much as possible who are one of the Rescues that Pledge a Pound supports.
I look after Daisy's diary and Facebook page. Daisy is a little toy rabbit that travels around, staying with different hosts and raising money for Pledge a Pound.
I organise the Amazon Christmas Wishlist/Shoebox appeal each December this is where we ask people to donate items from our wishlist or make up their own showbox style parcel of items and send to me. All the donations are collected up, and a parcel is made up for all the Rescues we support and send out in time for Christmas.
Finally, I also oversee the Rescue Rabbit/Guinea Pig of the month competition, this is where our Rescues post on our forum thread a rabbit or guinea pig with their story and some photos. The winner is chosen each month by the Pledge a Pound Team and a very difficult decision it is! The winner receives a £20 supermarket voucher for their Rescue.
---
---------------------------------------------------------------------------------------------
Kirsty (Kermit)
I got my 1st rabbit as a gift from my boyfriend from the one and only 'Pets at Home' in 2007! At this stage I knew pretty much nothing about bunnies. In April 2008 my bunny Kermit developed head tilt, I was shocked and looked for help and advice online. I found a rabbit forum that offered lots of advice and info which helped my boy recover.
During my time on the rabbit forum, I became involved in fundraising for some of the rescues. I then became involved with Pledge a Pound, and have been a member since not long after it started.
I have four bridge bunnies and three current buns  . All of my bunnies since Kermit have been from a rescue or adopted from friends / family. I now have a fair bit of experience dealing with rabbit illnesses as a couple of the bunnies that I rescued came with some health issues.
For Pledge a Pound I run the auctions and I am the one that you will see on facebook as 'Dodger Smith' as I took on the beautiful wee bunnies page to help me keep in contact with all of the bidders and donators for the auctions.
The auctions are a great fundraising source for us and we could not have these without our fantastic supporters donating items and bidding on the items in the auction.
----------------------------------------------------------------------------------------------
Julia (Apache)
I adopted my first rabbit Alfred from the RSPCA in 2007, when he sadly went to the bridge in 2015 I adopted Paddington from one of the Pledge a Pound rescues.  Paddington is a house rabbit and enjoys snoozing in front of the fire..
I've always been an animal lover, having had horses for most of my life.  I currently have a Fell pony called Talisman 🙂
I look after updating the website.
----------------------------------------------------------------------------------------------