We currently have 4 team members, it can get very confusing as 3 of us are called Susan, hence the reason we've included our forum names in brackets 

Susan (Hunnybunny2007) Founder member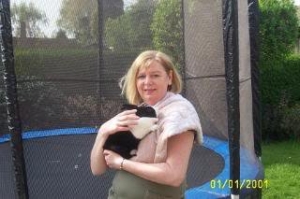 I adopted my first rabbit in August 2007, little did I know what an impact this would have on my life!
We found Honey after searching on the Internet and stumbling across a list of rabbit rescues, until this point I wasn't aware such places existed, and to my amazement there was a rescue less than a mile away from me.
Honey was to be the first in a line of rabbits to come and share our home, I currently have 14, and our set up has evolved from one hutch with a small run attached, to 3 sheds each with walk in runs, I also have 4 house bunnies  that have health problems.
After volunteering at a rabbit rescue I was filled with admiration and respect for all the work they do and also a little disappointed to see how little recognition they received in return.  I decided to try and do something to help and started organising small fundraisers for 2 local rescues by knitting bunnies and selling them, but I quickly realised this was not enough.
I have been a member of several rabbit groups and forums and people were always discussing fresh ideas on raising funds, then someone suggested making regular donations to rescues each month, this was just a rough idea, but I was intrigued and thought it could work, so in March 2010 Pledge a Pound was founded.
—————————————–
Hi, My name is Sue (sdf76) and I have recently become a moderator for Pledge a Pound, having enjoyed the site for the past 3 years since inception.
I am a 60yr old self employed watercolour artist with a history of clerical administration, and a desire to use my skills for Pledge a Pound to help the site raise funds for our rescues. If you are new to the site and there's anything with which you need help, then just send me a private message (pm) 


I have always had pet rabbits as a young girl and have had rabbits as pets for the last 20 years since marrying and raising my family. I have done many bunny-runs and home checks for Rescues to ensure the re-homed bunnies end up in suitable homes. I presently share a previously unwanted bunny called Coco with my daughter (bunlover) who also has a trio of rescue bunnies. Coco is a black, helicopter eared bunny who has now reached the grand old age of 11 years: he enjoys a full and happy life despite being partially blind and needing various medical treatments. He spends the summer months in his London city abode with bunlover and the winter months with me in Gloucester where he has more sheltered night-time accommodation.
———————————————-
Hi my name is Sue (Foofy) I'm 46 years old. I have had pet rabbits since I was a child along with a variety of other animals including ponies, dogs, cats, and guinea pigs. I think you could say that I am animal mad and of course my favourite is rabbits 


I currently have a cat called Poppy, a tortoise named Harry, and 4 rabbits. My rabbits are Peter Rabbit an agouti Dutch, who lives with Buttons a chocolate Dutch, Casper a black Dutch who lives with Daisy a brown & white mini lop. All 4 of them came from Southampton Rabbit Rescue, who are one of the  Rescues that Pledge a Pound supports. I try to support Southampton Rescue as much as possible and post on our forum on their behalf.
I am also a trustee for Scritches Rat & Rodent Rescue, this rescue has been up and running for several years now, and I've been a trustee from the beginning. I actually met my friend Kat who runs Scritches through rabbits though